#27 Three Takeaways from Burberry's new Social Store
Hi, I'm Florencia Lujani and this is a new edition of Cultural Patterns, a newsletter on brands, culture and strategy. To the new subscribers who came from my interview with Contagious, welcome! It's great to have you. My posting schedule is a bit random at the moment, but every time I hit your inbox I hope to make it worthy of your time. Feel free to reply to this email and get in touch, keen to hear your thoughts. Florencia x
---
Burberry recently opened a new store in Shenzhen with a fascinating concept developed with Tencent, WeChat's parent company. Even though the brand has over 60 stores in China, this one delivers a truly unique shopping and brand experience. Watch a quick tour of the store below:
The store is part retail space, part coffee shop, and part virtual playground, bringing to life the brand's vision through a creative execution that honours its heritage but also pushes it forward to everything it can be. Here are three takeaways that make this store unique: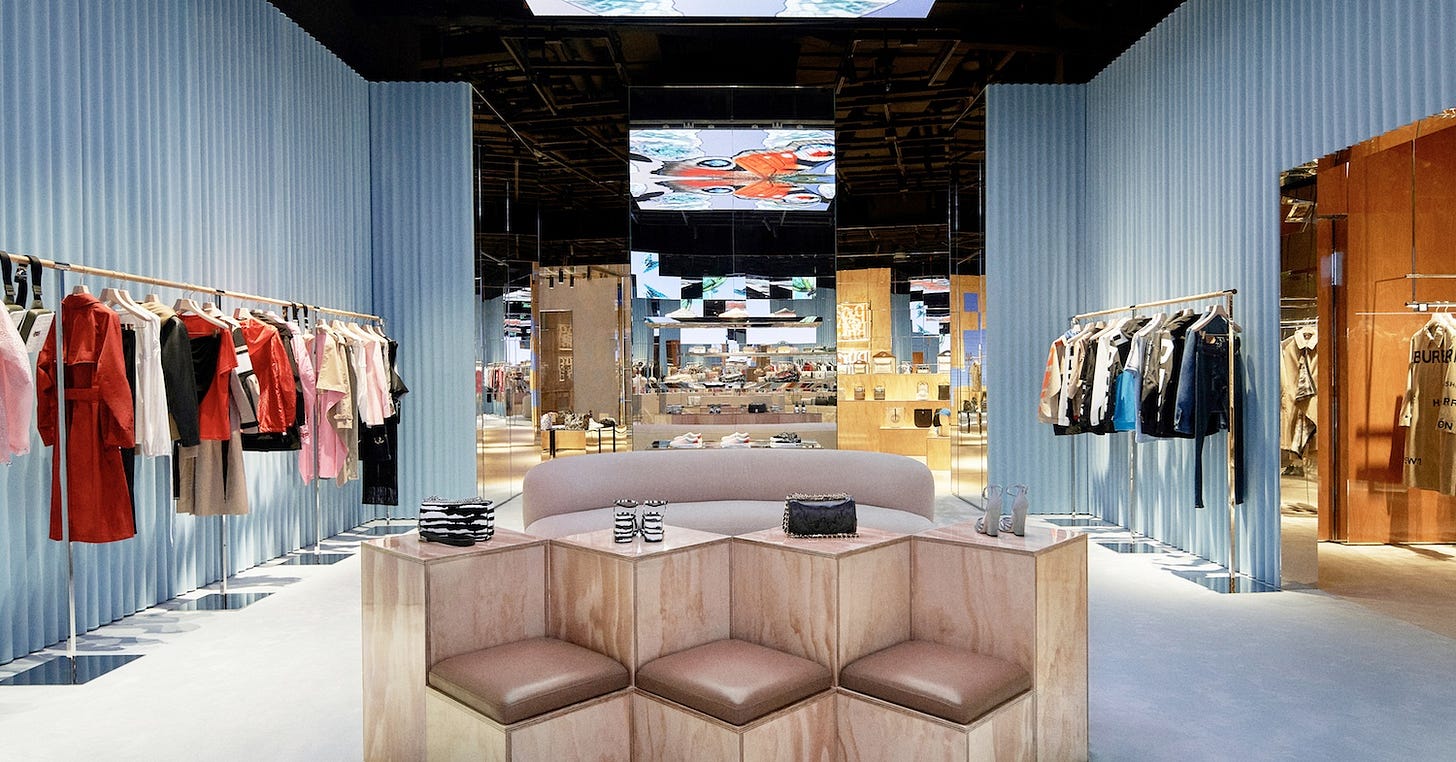 1 Born from Digital Culture
It's pretty common to enter a brand's flagship store and see tweets with the brand's hashtag being displayed on huge screens. Plenty of stores rely heavily on a digital experience to drive consumer interest, but many do so as a gimmick, looking only at the functional aspect of tech. The store is innovative not only from a technological point of view but also from a social and cultural perspective, embedding codes and behaviours of digital culture throughout the experience.
The store is fully integrated with WeChat, and so while it's perfectly possible to enjoy the store around you like in the olden days, half of the fun happens online.
When shoppers use the Burberry app within WeChat, they're given a digital avatar designed after the brand. The more they use the app to scan items using QR codes, or share images or book appointments, the more points they get. While loyalty programmes are often a tough sell for luxury brands, the brand rewards brand engagement with a "social currency" that unlocks more exclusivity.
Considering that 21% of Gen Z prefer their life online to their IRL, exclusivity in the should consider the online and offline experience as equally important. The brand rewards shoppers both ways, by giving them access to new characters and outfits for their digital avatar on the app, and by providing access to exclusive cafe menu items and access to The Trench Experience.
The Trench Experience is a hidden room that takes customers on a journey through the history of Burberry's signature trench coat. Here the brand is also borrowing codes and logics from the gaming world to elicit the kind of excitement that comes from unlocking a secret level in a game. The Trench Experience is designed to be an immersive digital experience, and a video-panelled room provides an ultra-exclusive selfie backdrop to be shared on social media.
This merge in the retail environment makes people stay for longer and explore the store more carefully, engaging at every step and in every room to discover something hidden, sustaining the 'wow' factor for longer.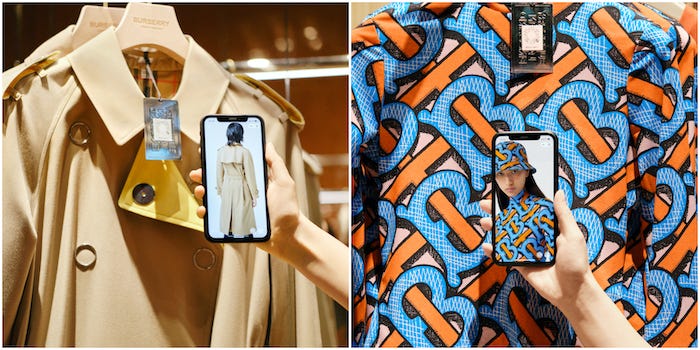 2 The Power of Identity Brands
Brands like Burberry are identity brands, they help people develop their own taste and preferences. The emotional connection between shopper and brand is so strong, for many fans entering a flagship store feel like going to church.
Burberry knows it plays a role in self-realisation, and has enabled this throughout the store to make it part of the value exchange with shoppers. Customers can use the WeChat app to make appointments with stylists and pre-select clothes to try on before arrival. They can also book one of the three themed fitting rooms, and the brand allows them to play their own music. Also, the mirrors and screens around the store capture shoppers and their body movements, giving the illusion of being on a fashion runway and creating a unique moment that can be shared with friends.
For people, luxury stores provide a way to develop signals of status, learn about quality and craft, and share a space with likeminded people. It can be easy to underestimate the power of these experiences but stores can make people feel like they're in the heart of a brand. As Riccardo Tisci, Burberry's Creative Director, said: "More than ever before, I think customers, especially the younger generation, want to buy into and believe in the identity of a brand"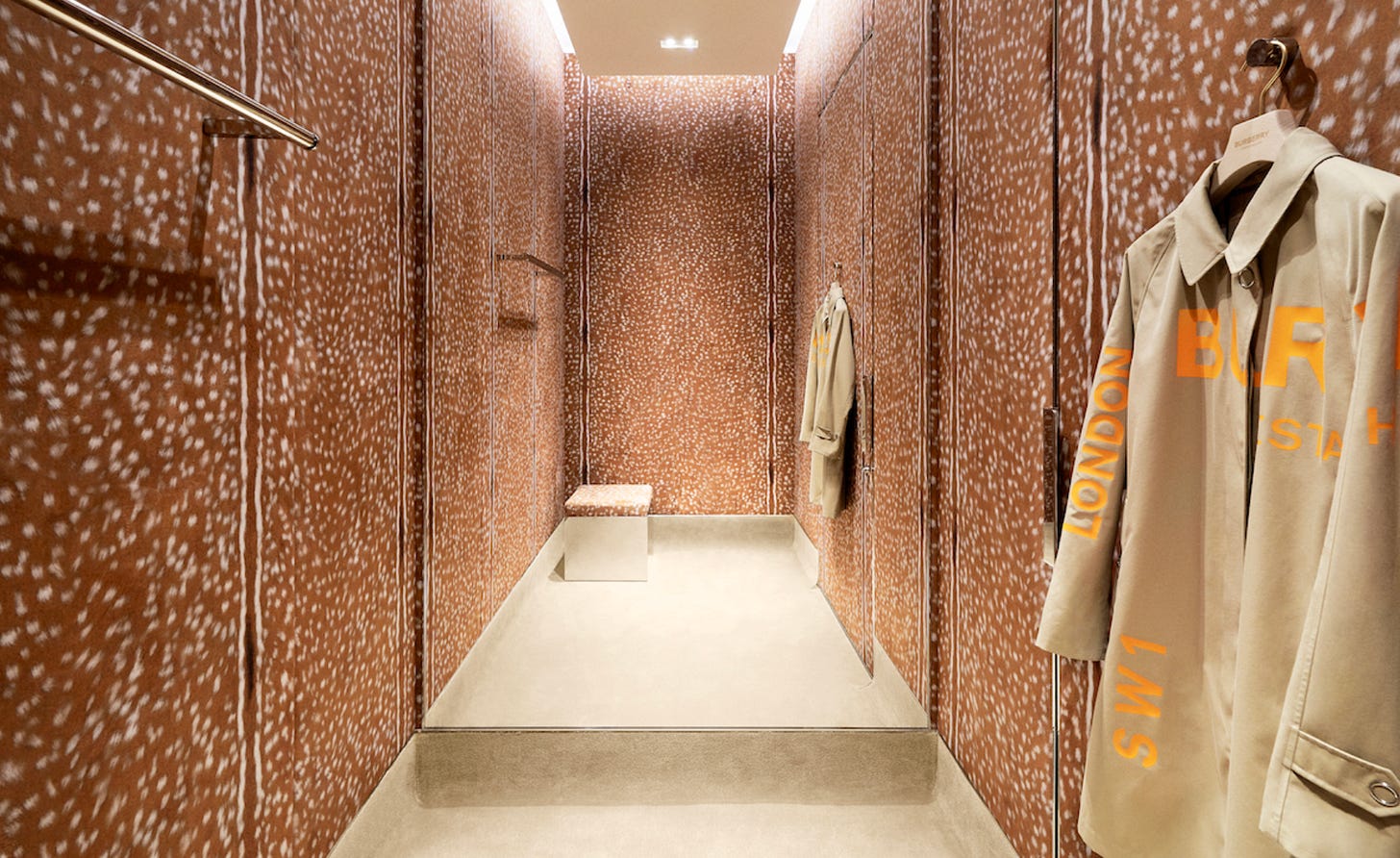 3 Building Cultural Authority
With this store, Burberry is strengthening its presence as a British brand in China, and it needs to bring to life these two very different ideologies and points of view of the world in a way that they complement each other.
Here, I think the role of Thomas's Cafe is very smart. Instead of replicating the menu from the London branch, it serves English and Chinese tea specialities, honouring the brand's heritage and the local culture, which is extremely important for Chinese customers. It also increases dwell time on the store and gives an opportunity for people to spend their "social currency" in the secret menu items, and experience the craftsmanship and quality of the brand.
Most importantly, the café was designed with the vision that it would serve as a space to house talks, workshops or live performances. Events allow brands to bring their vision to life, by bringing people together and facilitating broader cultural debates. It's during those events where valuable and profitable relationships with super fans, niche communities, curators and influencers are developed and nurtured.
Events are also a way to develop and strengthen a shared narrative around the brand and give fans the opportunity to co-create it. Burberry doesn't need to rent out space every time it wants to host a community activity, by using their own store they bring bonding and social context to their own consumption environment.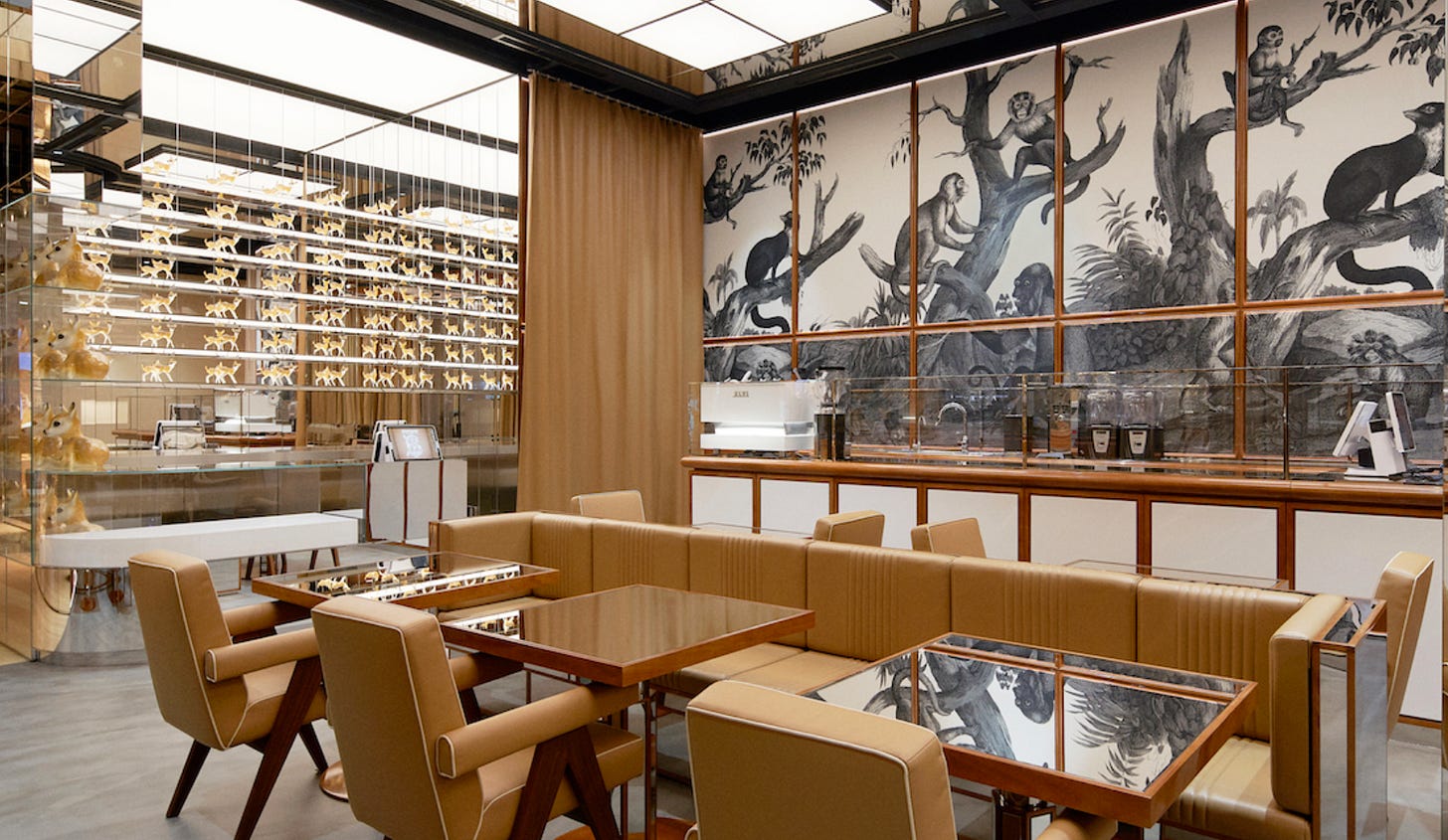 These type of experiences have massive brand-building power, they create the coveted memory structures that are fundamental for brand growth. Creating emotions about a brand always has a significant impact on spending, loyalty and advocacy.
When I look back, I've had some unforgettable brand experiences that influenced my purchase decisions and overall brand preference. I remember when I visited Apple's 'The Cube' Store in 5th Avenue back in 2008, the Louis Vitton exhibition at The Strand in 2015, or the endless floors of stationary at Itoya in Ginza, Tokyo. All of these places bring me happy memories and have influenced the way I think about these brands and what value they add to my life.
It's exciting to see brands thinking beyond tech features to incorporate values and behaviours from online culture to their retail spaces - it's proof of a more rounded understanding of people's lives and how they make choices and develop brand preferences.
---
Thank you so much for reading. What other brands innovating in their retail experiences should I know about? Feel free to reach out by email or on Twitter :) If this the first email you've received from me, here are some of my latest articles.
#26 Building Global Brands, One Market at a Time
#25 Why the Debate around Toppling Statues is Relevant for Strategy
#18 How to Identify Cultural Patterns and Improve your Strategic Thinking
See you next time.
Florencia x